The wiper mount, driver's footbox vent and cast-aluminum throttle box. The intermediate steering column and support bearing are also included, although we only install the column if we supply the steering gear.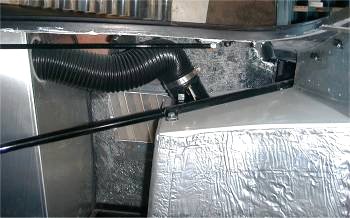 Both footboxes are insulated with aluminum/foam material, and of course the passenger also gets a footbox vent. We also install the aluminum louvers, with stainless steel fasteners so that the louvers can be removed for paint.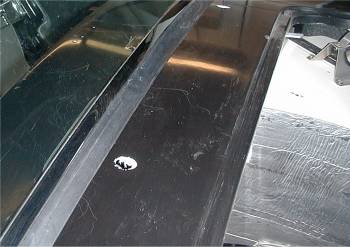 We even pre-drill the holes for the wiper posts.
(Unless you don't want them.)
The firewall is completely pre-drilled, and the grommets and wiring clamps are included too. Wiring clamps are also included wherever required on the rest of the body. All aluminum has plastic covering to prevent scratches during our assembly.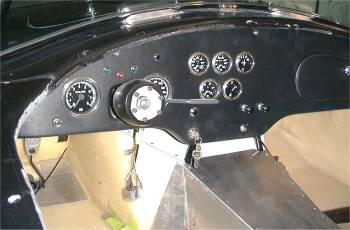 This kit has the optional drop-center street dash, and we have installed the optional ERA steering column and relay. The standard (comp) FIA dash is unpadded bare aluminum.
Brake, clutch and throttle pedals are installed, as are the master cylinders and all the brake lines. The hinges are protected by fiberglass covers like the original car.