The ERA Seat System
Our standard seats are built on a steel framework (we used to use a fiberglass bucket) to duplicate the original look and feel. Genuine Pirelli webbing and bottom diaphram support the foam covering. For optimum comfort and support, we use several different foam types and densities, glued in strategic areas.
This is an expensive seat to build (in house, of course),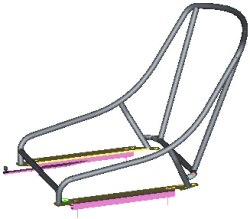 but it's worth it. (See below)

For people with sizes past the 98th percentile, we can change the amount of padding in the back and the bottom cushion for a little extra room.