RADIATOR FAN(S)
Shown at the right is the 427SC fan schematic but the ERA GT is similar.
Troubleshooting - Assuming the fans don't work.
The thermoswitch will activate only above 190F.
If the fans won't automatically turn on, but work with the dash switch:
Check the thermoswitch connections at the connecting tube (427SC/FIA) or in the radiator (GT).
If the connections are OK, remove the wires from the thermoswitch and jump the wires together. If the fan(s) come on, the thermoswitch is defective.
If the fans still don't work, ground the non-black wire (with a jumper wire if necessary). If the fan works, the thermoswitch ground circuit is defective. Check the nearest ground connections.
If the fans won't work even with the dash switch:
Check fan connections
Check the relay connections
With the dash switch on, check the voltage at the green or orange wire at the fan connection. If there is 12V between the wire and ground, check that the resistance between the black wire and ground is zero. If not, clean and check the nearest ground connection to the chassis.
If both the feed connections are OK, make sure that the pins between the fan and harness are mating properly.
Check Fuse connections - Go to (B).
Check Relay - Go to (C).
(B) Check that there's at least 12V at both ends of fuse 1. If there isn't 12V on the right (green or orange wire) side, replace the fuse and check the wire connections. Some early fuseboxes tended to corrode because the fuse clamp was riveted to the tab where the wires attached. Later fuse boxes are one-piece. If the voltage is correct, go to (C).

(C) Disconnect the relay wires and jump the wires that connect to terminals 30 and 87. If the fan works, go to (D) to check the relay and relay connections. If not, the connection from the relay to the fan is defective.

(D) Check that there's 12V at terminals 30 and 85 on the relay/connector. No voltage indicates a bad connection to the fuse box. . Not likely
Ground terminal 86. You should hear a click and the voltage at terminal 87 should be 12V. If not, the relay is bad.
With all relay connections remaining in place:
(E) Relay Ground
With the dash switch on, use a jumper wire to ground out terminal 86. If the relay clicks, the connection to the dash switch is faulty AND the thermoswitch is bad.
Fan relay plug or wire side of relay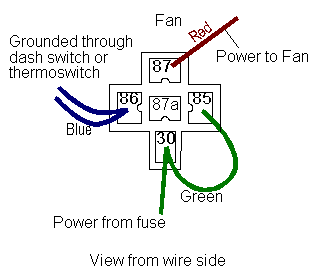 Note! Later 427s use an orange wire from the fuse rather than the green one shown.