Optional Wilwood Front Brakes
For track use, E.R.A. offers extra large front and rear brakes. Shown at the right is an early ERA 427 with the optional vented rotors and Wilwood calipers. The FIA is similar. The normal 12.2" rotors will fit into the 15" pin-drive wheels. Special-order 12.8" rotors and calipers will fit only into 16"+ wheels.
Don't assume that the stock brakes are "too small"! A Big-Block 427SC with stock GM brakes won the 0-100mph-0 Hot Rod challenge with a time of 12.07 seconds! The lighter small-block will put even less stress on the front brakes.
For prolonged extreme useage, though, the recovery time of the optional brakes is much less.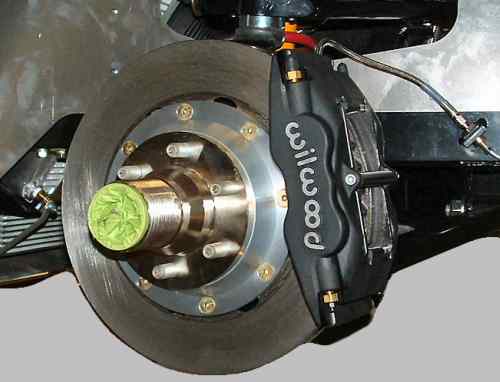 427 With Wilwood Calipers Installed