CSX-Info.net - Lots of history, pictures and stats
289Register.com - History and more
The Car Source - Cobra History
Cut and pasted from the Clubcobra pages:
The Cobra was built off of a strengthened and modified AC Ace frame. The Ace was an English sports car powered by a 135-horsepower 6-cylinder engine. To accept a 260 cubic inch Ford V-8, the engine and transmission mounts were changed and the suspension made stronger. The bodywork was changed slightly and fender flares added.
The first Cobra, CSX2000, was shipped to the U.S. from England in early 1962. Within a few hours of its arrival in California, it received a 260 V-8 and 4-speed transmission in Dean Moon's Los Angeles shop, and the Cobra legend had begun.
The first car was originally unpainted, with Carroll Shelby and helpers scrubbing the bare aluminum with brillo pads. It was later painted yellow, then other colors, to give magazine road testers the impression that Cobras were rolling off of the assembly line.
The first 75 cars built had the 260 V-8. After CSX2074, the 289 V-8 replaced the smaller engine. Rated at 271 horsepower, a host of high-performance options were available, from high-compression cylinder heads to dual four-barrel carburetors to four two-barrel Weber carbs. All total, 515 289 Cobras were built.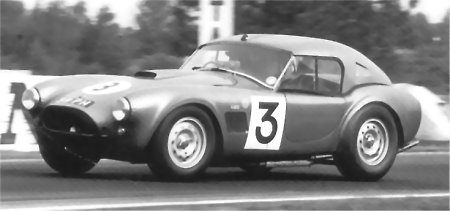 CSX 2130 - a 289 with aerodynamic hardtop built for Le Mans
In race trim, the 289 Cobra was dominant in domestic racing and, in its Daytona Coupe variant, eventually dominated the international GT-class racing scene. 289's won the United States Road Racing Championship in 1963 and 1964, the 1964 Sports Car Club of America American Road Race of Champions, took first in class in the 1964 Le Mans 24 hours (Daytona Coupe), the 1966 SCCA ARRC B-production title, the 1968 ARRC B-production title, won the FIA GT World Championship in 1965 and, last but not least, set 23 national and international speed records on the Bonneville Salt Flats in 1965. 289's also dominated their classes in NHRA drag racing for several years during the '60's.
In an attempt to improve upon the speed and handling of the 260/289 Cobras, Shelby and Ford collaborated to build the 427 Cobra, which many feel was and is the ultimate street weapon. The 289's leaf spring suspension was replaced with a computer-designed coil spring setup, and the small-block V-8 was replaced by the powerhouse 427 sideoiler V-8. The bodywork was stretched to cover the widened suspension and tires, creating one of the most muscular bodies ever seen on the road. The 427 became famous for its acceleration; legend has it that Cobra team driver Ken Miles accelerated from 0 to 100 mph and braked back to 0 in 13.8 seconds. 348 427 Cobras were built. Originally sold in either race or street form, many race cars were converted to S/C ("street/competition", or "semi/competition") models, which were street legal--barely. These cars are generally considered the ultimate 427 street car, and most replicas emulate them.
Although Shelby never seriously developed the 427 as a race car, they didn't do too badly, either: 427's won the SCCA ARRC A-production championship in 1965, 1966, 1967, 1968 and 1973. As with the 289 Cobra, the 427's were available in drag-racing form and, known as "Dragonsnakes", set many NHRA class records in competition.
Some 427's were quietly sold to unknowing buyers with the milder 428 engine installed, because of cost and availability concerns with the 427. The power of the 428 was such that most people never noticed the difference.
Originally selling for less than $6,000.00, today's Cobras command prices of more than $200,000.00, with certain 427's selling for more than $500,000.00. The ultra-desirable Daytona Coupes, of which only 6 were built, now sell for millions of dollars, when they (rarely) come up for sale. These prices help explain the popularity of replica Cobras, which can be built for much less (unless you're like me and don't know when to quit spending money!).
Hope this serves as a good start for your project. Good luck and enjoy the ride!
Bob
Flyin_Freddie
CC Member
Collierville, TN USA
posted 01-02-2001 09:49 PM
To clarify my earlier post where I alluded to the current kit car Cobra industry being the real reason for Shelby's popularity... Granted, the originals are indeed desired and sought after collector vehicles - and indeed I'd love to own one or two - but, there were just so few of them made that it's hard to understand someone thinking there's a big after market industry in offering parts for them, etc. Anyway, here's some numbers from the Illustrated Shelby Buyer's Guide, Jay Lamm and Nick Nicaise, Motorbooks International, 1992.
Leaf Spring Cobras: 260's - 75, 289's - 574, Daytona Coupes - 6, TOTAL 655.
King Cobras: Shelby Factory Racers - 5, Privateer - 3, TOTAL 8
Coil-Spring Cobras: 427 Chassis only - 3, 427 type 65 Super Coupe - 1, 427 Street - 292, 427 Competition - 21, 427 S/C - 31, TOTAL 348
So, if you're adding all these up, that's a total of 1,011 Cobra-bodied cars. Figuring some of them are no longer with us due to shunts, wrecks, fire, etc. there's less than 1,000 lucky owners in the world today.
Without the kit car/replica industry, where would be vast market for these cars be?
Interestingly enough, I have another book from AC Cars, Ltd, AC Heritage, 90 Years From Three Wheelers to Cobras. This publication states there were 31 427 SC's built by them. So, basically, this tells me - and anyone who can add and read - that Ol'Shel' didn't produce the first 427 SC style bodies, AC did.
So, what was the basis of this suit, anyway? True, Ol'Shel may not be at the root of this suit, as DDS#1 stated, but he DID have the power to stop it...all he had to so was say so, and indeed, his will be done.
Now, before everyone goes and jumps on my case, I do admire and revere Carroll Shelby. Not only for what he did for Ford Racing and for us racing fans, but for giving us a car worth making replicas of... Ever seen a replica - kit car or turn-key - of a '53 Nash Rambler Metropolitan? Ever wonder why...?
But, based on Shel's interview posted above, and other things he has said, as documented on ClubCobra, one wonders why the suit was ever filed.
Carroll, you can't be credible and talk out of both sides of your mouth. You can't say you're flattered by kit car replica's and then go sue the manufacturers. And you'll never have any credibility by signing someone's kit car Cobra dash and then suing the manufacturer of the same kit car! I love what you did, but I certainly don't like the man you've become.
Detail production stats:
COBRA PRODUCTION TOTALS 1962-65
260 Cobras
Street Cars

62

Factory Teams Cars (initially 260 engines, then updated to 289)

4

Factory Prepared Competition Cars (initiallywith 260 engines then updated to 289)

1

Independently-prepared competition race cars

7

Dragonsnake (initially 260 engines then updated to 289)

1

Total 260 Cobras

75




289 Cobras
Street Cobras
455
Standard Competition
2
Sebring Cobras
3
LeMans Cobras
3
427 Prototypes
1
427 Prototypes 'Flip-Top"
1
FIA Roadsters
5
Daytona Coupes
6
USRRC Roadsters
6
Total Factory Team Cars
29




Factory Prepared Competition Cobras






Standard Competition....................2

LeMans Prototype.........................1

LeMans Replica.............................3

USRRC Roadsters.........................5
Independently-Prepared Race Cobras......21
Dragonsnake Cobras.................................2
COB/COX* Street Cobras......................60
COB/COX* Race Cobra...........................1
Total 289 Cobras............580
Total small block Cobras.......... 655
*(COB - Cobras for Great Britain)
*(COX Cobras for export other than to Great Britain)
Coil Spring Big Block Cobras
Street Cars .......................................260

Prototype Competition Roadsters..........2
Production Competition
Roadsters....................................19

Semi-Competition Roadsters........31
Daytona Super Coupe...................1
Chassis Only..................................3
COB/COX Cobras.......................32
1965-67 427 & 428 Cobras ..... 348
Total Cobras Built ............... 1,003
(..note.. that's counting the COB/COX cars)
...this is a cut-and-paste from the Carsource page; need to check the arithmetic