GREAT NEWS!!!!
( Posted on ClubCobra.com, 03-17-99 05:57 AM ET (US) by Alan Vanhollebeke
------------------------------------------------------------------------
For those of you who (would like to) enjoy scca autocross (soloII) events, I have great news. But fist a little history. For years,the scca solo board considered cobra replicas as "misfits",and classified our cars in the "modified"(read, catch-all) catagory. We had to compete with single seat,800lbs.,snowmobile engine powered,multi-winged, goofy-looking,contraptions! In other words,according to the scca, we didn't have "real" cars, so we had to compete with these home-built,one purpose type vehicles.
Well things, they are a changin'!! AS of April 99 "fastrack news" (the official scca rules update publication), we have FINALLY been recognized as having REAL cars and have been re-classified to compete in the "prepared" catagory! The official tech bulletin reads as follows: To:solo competitors Subject:Rulebook corrections
(Due to the extent of modifications permitted on GT-derived cars classed within the Prepared category, it is possible for a replica car to meet the legality requirements for the corresponding original model provided the engine,track, and wheelbase remain within the allowed specifications. In such a case the replica is considered legal for Prepared,provided it does meet all of the applicable GT specifications. The 10% increase in minimum weight does apply.)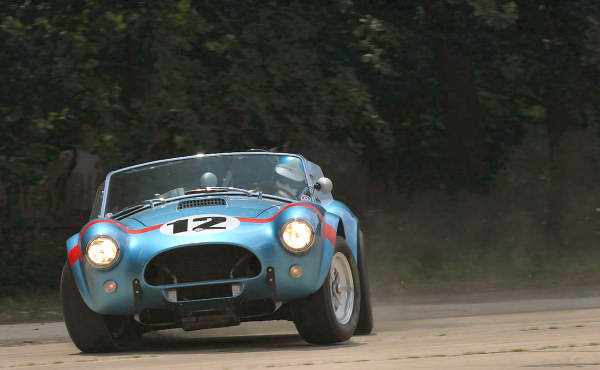 There you have it, cobra replicas are now eligable to compete in A-Prepared(AP), right along side real cobras! Other cars that you'll see in AP are: datsun Z's, lotus europas,elans & sevens, mazda RX-7's, porsche 911 & 914's, sunbeam tigers,etc. The AP specs for cobra replicas are:2200ilb. min. wieght.,16x10 max wheel size,70 inch max track F&R. Get a current rule book for all the details as they are to numerous to list here.I'll be posting a national soloII schedule on the "up coming events" thread soon.
We now have a much more level playing field in which to compete on. There is one person who deserves alot of credit for making this happen. His name is Bill Cutrer,he is a solo competitor and our voice on the "solo events board" in the midwest division. In our conversations, I told him that there were many cobra owners who are anxious to compete in scca solo events but are discouraged by the "modified" category rules,I.E., no one to really compete with in the class. Bill brought this to the attention of the board and did us an enormous favor. Any one who has ever had to deal with scca politics knows how much "fun" it can be to try to change existing policies. Let's all go out, buy some static cling meatballs, "AP" class letters, enter a soloII event, and kick some butt!!
For those of you who'd like to send Bill Cutrer a quick,"thank you note", his e-mail address is< bill.cutrer@ibm.net >, I'm sure he'd really appreciate some positive feedback on all of the hard work he's done.