The E.R.A. Standard Rear Suspension
(Jaguar XJ Based)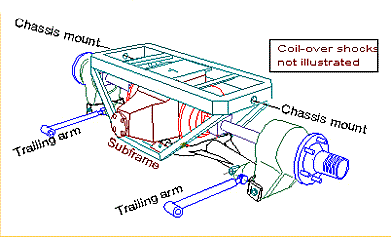 The Jaguar-based independent rear suspension is carried in a unique tubular steel subframe.
A solid rear axle can be a severe handicap in a short wheelbase, high performance car like the Cobra. Torque steer under high acceleration can create a rather unstable situation. There are some live axles that compensate for the driving torque, but everything is a compromise: Normal bump characteristics will suffer then.
Additionally, the length of the original Ford top-loader transmission makes the drive shaft so short that rear wheel travel would have to be limited, resulting in the bad choice of the shocks bottoming out, or having to resort to unacceptably stiff spring rates. Result: unpredictable handling.
Below, you can see the rear suspension /subframe mounted in a bare chassis. The subframe is mounted at the top, through urethane bushings, and at the bottom, through nylon/aluminum spherical joints. This results in a squeak-and-rattle-free ride and excellent handling.
We shorten and reinforce the original Jaguar lower
control arms and halfshafts so that they are stronger than the original pieces. Details here.

The original Jaguar XKE suspension also used a subframe and trailing arms - which worked quite well in the lower powered car. We found it necessary to stiffen up the mounting system to make more precise handling.

Some other kits also use the Jag suspension, but because of space and design restrictions, don't use a trailing arm. This puts the lower control arm into stress modes for which it was never intended. With power on and power off, the arm will flex forward and back, changing the toe-in simultaneously. Not great for predictable handling!

Every rear suspension assembly that we sell (unless you don't want it) is equipped with a rebuilt Powerlokę limited slip differential.
We do extras like the brace between the hub carrier and the shock mount. It actually serves as a convenient tie-down when transporting your car on a trailer.

You can just see the roll bar back brace, mounted directly to the chassis. Both the front legs are also mounted directly to the frame. It really works.