The ERA Independent Rear Suspension
A solid rear axle can be a severe handicap in a short wheelbase, high performance car like the Cobra. Torque steer under high acceleration can create a rather unstable situation. There are some live axles that compensate for the driving torque, but everything must be comprimised, including normal bump characteristics.
Even more important for a street-driven car, the length of most conventional transmissions makes the drive shaft so short that rear wheel travel would have to be limited, resulting in the bad choice of the shocks bottoming out - or resorting to unacceptably stiff spring rates. Result: unpredictable handling.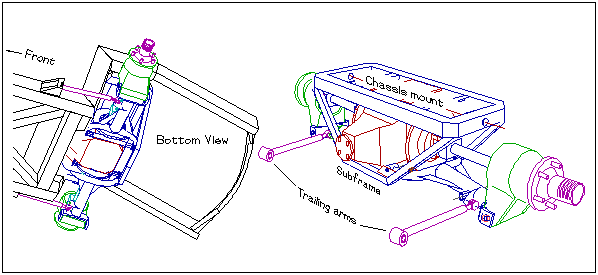 And, we will do over 1.0g on the skid pad with stock 15" street tires.

Our rear suspension is uniquely carried in a subframe, making it easy to assemble, easy to service and quieter than suspension bolted right to the chassis.

Components are from the Jaguar XJ-6 sedan - generally available in wrecking yards. Cores are also available from us, if you are time-constrained. When you buy the "subframe" option, we shorten the half-shafts and lower control arms to give the correct flange-to-flange dimensions. The axle shafts have proven extremely reliable under all conditions because of our special manufacturing technique and fail-safe design. New one-piece hubs are supplied when you get the optional pin-drive wheels - with bolt-on wheels, the standard Jaguar hubs are used.

We do extras like the brace between the hub carrier and the shock mount. It also serves as a convenient tie-down when transporting your car on a trailer.

Every rear suspension that we build (unless you don't want it) comes standard with a rebuilt Powerlok© limited-slip differential.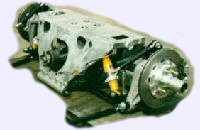 OPTIONAL! Our new rear suspension is probably the most sophisticated rear suspension available in any kit car! From the aluminum subframe and hub carriers to the 12" outboard brakes, this design offers many advantages over our Jag-derived design - or for that matter, any production-based suspension. It offers better control at race speeds and large vented rotors that are in the air-stream. It is also saves about 50 lbs.
Price is slightly higher than our standard Jag based unit, but cheaper than the Jag with optional vented brakes.