Our Optional Rear Suspension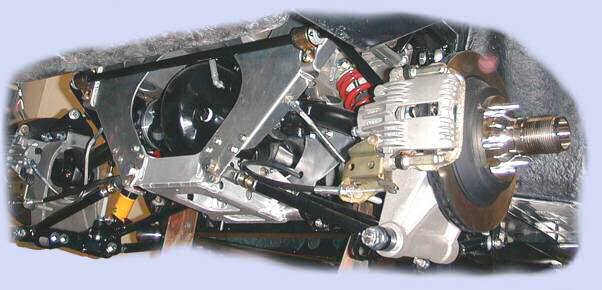 Like our standard setup, the rear suspension is mounted in a subframe, but in aluminum rather than steel. The subframe is mounted to the chassis through urethane bushings, reducing noise and vibration while maintaining precise suspension geometry.
The unit is designed to be fully adjustable - very tunable for the track, although it isn't of much advantage on a street car. In our standard Jaguar based suspension, there was one problem: the Jaguar inboard brakes were cooled poorly under track conditions. (We do offer some optional brakes to cure the problem, but they're pretty pricy.) These outboard brakes will cure that problem - standard. Calipers are from the late model Corvette/Camaro, and have an integral emergency brake if desired. Light, efficient, reasonably cheap - and built for a car that weighs 30% more than our 289. The vented rotors are 11.75" Wilwood units, .810" thick.
We cast our own aluminum hub carriers for this rear suspension, but it still uses the same Jaguar stub axles, bearings and seals. All of the pieces are reasonably priced and well proven in our 427.

We were able to get exactly the geometry we wanted, using the axle as the upper link, so why have the added complication, weight and expense of a variable-length axle? The axial stress in the shaft is small compared to the torsional stress, and the axle shafts have proven extremely reliable under all conditions because of our special manufacturing technique and fail-safe design. We've lowered the roll center and decreased the camber change a bit from the Jag for more predictable handling under track conditions. There is also more anti-squat built into the geometry.

Every unit has an adjustable link for the anti-sway bar so that you can do some micro-tweeking of the front and rear balance at the track.

Every rear suspension that we build (unless you don't want it) comes standard with a rebuilt Powerlok© limited-slip differential.
The hub carrier is located firmly in every direction,. At the bottom toe and camber is controlled by two radius arms with adjustable nylon-lined rod ends at the inside and urethane bushings at the hub carrier, plus a trailing arm with the same combination of rod end and urethane bushing. At the top, there's a trailing arm with rod ends at both ends, plus the drive axle acting as a radius rod.

The subframe is CNC punched aluminum. The tubular radius arms allow easy toe-in adjustment.